MAKE YOUR SKIN SHINE INSIDE OUT
At Jema Rose, we believe in harnessing the power of nature. When it comes to skin treatment, we understand that beautiful skin and true radiance can only come from natural, healthy dermal cells. Our masks combine the best of nature's nourishing ingredients with the latest technology to maximise your skin's natural strength and to reveal a smooth, healthy, rejuvenated appearance every day. Make your skin shine inside out.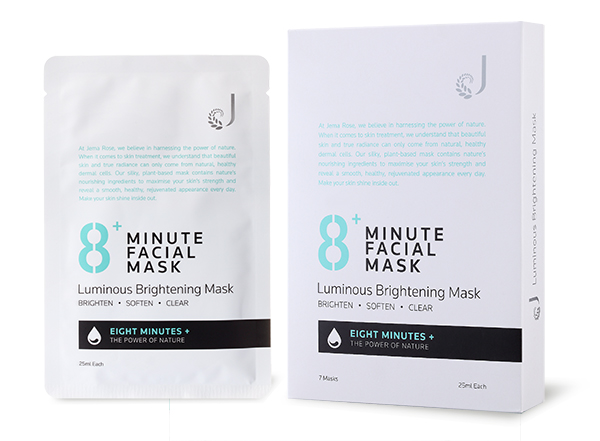 Luminous Whitening Mask
BRIGHTEN • SOFTEN • CLEAR
Our Luminous masks give your skin a clear and luminous skin tone for eight hours or longer. You will find after using the mask your skin will be bright and smooth with a healthy, natural radiance.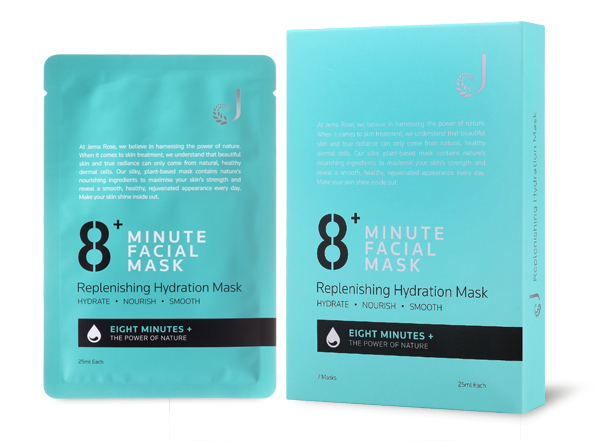 Replenishing Hydration Mask
Our Replenishing mask allows the active ingredients to deeply hydrate and replenish your skin. Treating your skin with our masks helps clear skin pores and keeps your skin rejuvenated and nourished.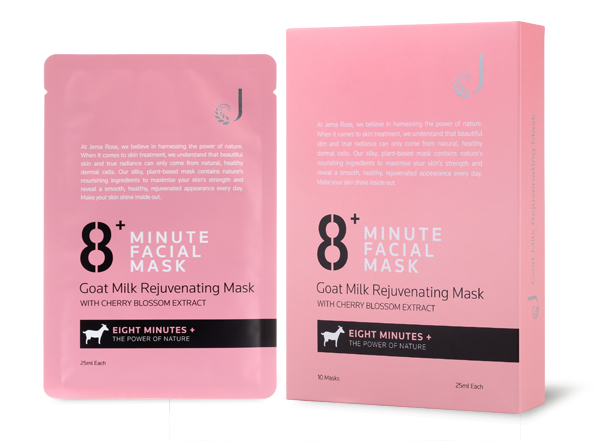 Goat Milk Rejuvenating Mask
WITH CHERRY BLOSSOM EXTRACT
The natural properties in Goat's milk help exfoliate and improve skin elasticity while the complex vitamins and probiotic lactic acid gently brighten and moisturise the skin. Cherry blossom is rich in caffeic acid and phenolic antioxidants which helps repair the skin's natural barriers. Provides a clear complexion, leaving your skin feeling soft and smooth just like a baby.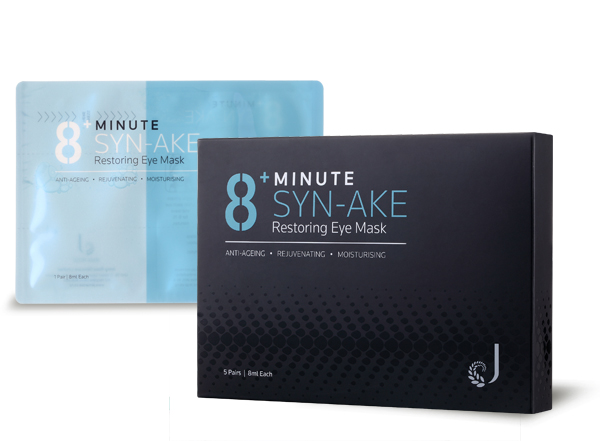 SYN-AKE Restoring Eye Mask
ANTI-AGEING • REJUVENATING • MOISTURISING
8+ Minute SYN-AKE Restoring Eye Mask contains potent active ingredients that improve skin elastin and collagen regenerating. The serum provides skin elasticity and nutrition via SYN-AKE peptide, a synthetic form of snake venom. This works by reducing the muscular contractions around the eyes; thereby keeping the skin smooth and preventing the visible formation or deepening of wrinkles.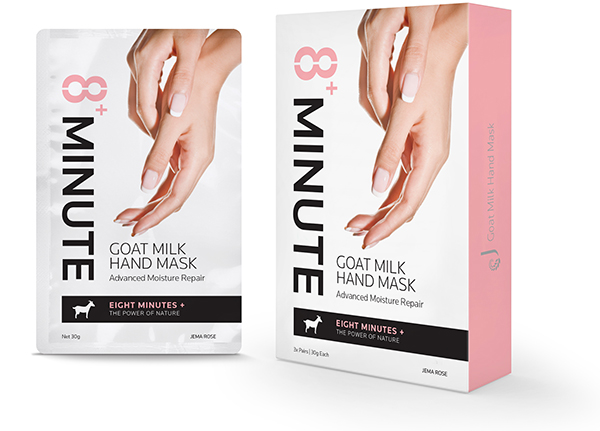 Goat Milk Hand Mask
8+ Minute Hand Mask is formulated with Goat Milk Extract to improve skin elasticity, brighten, moisture, repair and soothe dry hands. Ceramide 6II boosts your skin barrier against external aggressions and helps to fight free radicals. Using the hand mask on a regular basis helps to intensely nourish the skin, nails and cuticles.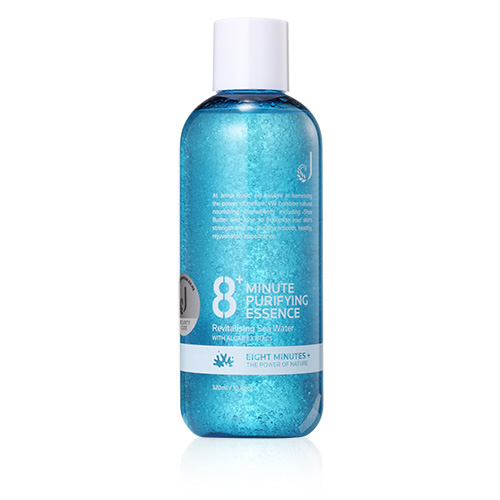 8+ Minute Purifying Essence
WITH GLACIOMARINE BLUE ALGAE
Formulated to make skin more resilient to physical and environmental stress. Deep sea water rich in magnesium helps your skin retain moisture and diminish issues like acne and dermatitis. Added Nicotinamide (Vitamin B3) improves epidermal barrier performance and minimises lines and wrinkles. Leaves your skin soft and smooth and looking bright and naturally radiant.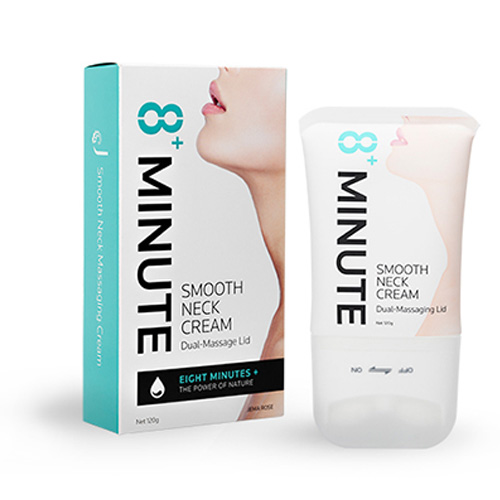 8+ Minute Smooth Neck Cream
Contains Polypeptides that tighten and moisturise the skin around the neck and chin. Helps to fight the signs of aging, including fine lines, wrinkles and loss of elasticity, for a rejuvenated appearance and a visible neck lift.
Directions: Turn lid to the ON position and squeeze cream onto your fingers and apply to the neck area. Turn lid to the OFF position and use the rollers to gently massage the neck and jawline using an upward motion.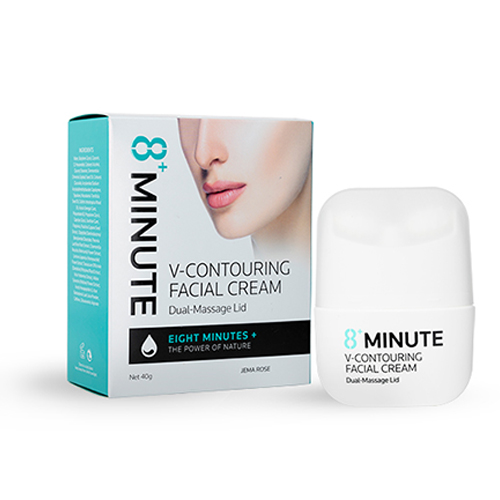 8+ Minute V-Contouring Facial Cream
8+ Minute V-Contouring Facial Cream contains Polypeptides that tighten and nourish the skin. Fomulated with Paullinia Cupana Seed Extract, an antioxidant that helps fight against free radicals which cause the signs of aging. Use every day for a hydrated and natural skin tone. Massaging around the face and neck area helps to redefine the jawline contour.

8+ Minute Ginseng Infused Shampoo
THICKEN . STRENGTHEN . NOURISH
Potent natural extracts and essential oils blend naturally to effectively nourish the scalp and clean the hair. Our Ginseng shampoo is enriched with Camellia seed oil, known for its excellent healing properties, and rich in Omega 9 fatty acids to cleanse skin pores and keep your scalp hydrated and hair strong, healthy and shiny.

STAY BEAUTIFUL
FOR LONGER
You will find after using the mask your make-up will stay beautiful for longer. It will last for an entire day. Suitable for all skin type.
HARNESSING THE POWER OF NATURE
Our masks combine the best of nature's nourishing ingredients, with the latest technology, to maximise your skin's natural strength and to reveal a smoother, rejuvenated appearance.
FAST-ACTING NATURAL INGREDIENTS
8+ Minute Facial Masks use a silky plant-based material soaked in our natural serum. This allows the active ingredients to make a visible difference to you skin in 8+ minutes.

At Jema Rose we welcome your feedback and are happy to answer any questions.
Helpline 0800 806 688